---
---

---
The 2019 Genesis G90 Wins the Luxury Vehicle War Against the Audi A7 In Elmhurst, IL!
When you've worked hard throughout your life, one thing that gives you satisfaction is the result. It can be in any form: a big house, a vacation and all the luxuries in the world that you yearned for when you started.
Now, you could be a highly paid manager, a businessperson or could be in a highly paid sales profession. You want to live a life that actually shows how hard you've worked to reach where you are now. Not to show off, of course as not all people living in Elmhurst, IL like to do that but for yourself.
So you are reminded every day that you deserve this. When it comes to your choices about things, you have to be wise for the sake of your image because it will showcase your personality. One of the most important choices you'll ever make is buy the right car. But there are so many luxurious cars in the world, which one should you go for?
If you are looking for something that matches your extraordinary personality, looks great and has an impressive engine, then you need not to look further than the 2019 Genesis G90. You might have a lot of options when you go to the automobile market to buy a luxurious car, like 2018 Audi A7, but we'll tell you not to do that.
Scroll down to find the impressive features of 2019 Genesis G90.
---
Driving Performance
One can easily notice why the 2019 Genesis G90 has an upper hand when it comes to engine performance. See The G90 Features Below:
The Engine Size or Displacement is 3.30 L

Higher horsepower at 365hp at 6000 rpm

Automatic Transmission 8 speed

Can turn 39.20 feet

24 Valve

Mileage 17mpg city

All wheel drive

Turbocharged

Fuel Tank capacity 21.9 gal approx
Whereas the comparative features of 2018 Audi A7 are as follows:
Engine is 3.00L

Horsepower is 340hp at 5300 rpm

Can turn at 39.00 feet

Front Wheel Drive

Fuel tank capacity 19.8 gal approx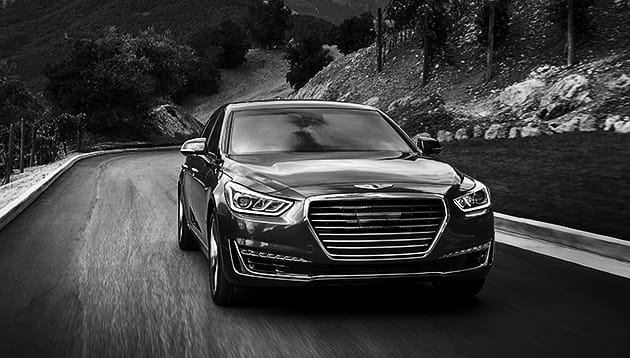 New G90 Inventory
---
Interior Features & Technology
Well, they are both luxurious cars and offer all the amenities and comfort such labels require.
But who wins the race? That is what we are elaborating on. Thanks to the 2019 Genesis G90's climate system, the interior of the vehicle will be automatically cooled or heated while the 2018 Audi A7 doesn't offer this feature.
Some of other features that the former has but the latter one doesn't have:
A power sunshade to help block the heat and glare for the passengers sitting in the rear side.

All air conditioned seating

Self heating steering - This feature is also available in the 2018 Audi A7, except that you will have to pay extra for that while with the 2019 Genesis G90, it comes with the vehicle.

Standard heads-up display

HID headlights

Hands-free lift gate

Remote engine start

The front legroom and rear legroom of the 2019 Genesis G90 are 46.3 and 38 inches, that of 2018 Audi A7 are 36.9 and 36.6 inches

More Passenger capacity 113.2. compared to only 94 of 2018 Audi A7

Reclining Rear seats

Driver lighted vanity mirror
Long rides can be boring sometimes. Even with 5 people in a car, people run out of things to do. Keeping exactly that in mind, the 2019 Genesis G90 was provided with several multiple entertainment features so that passengers could enjoy their time. They are:
A USB Connection.

Rear Volume Controls.

Premium brand stereo system and premium band speakers

HD radio

Smart device connectivity

CD and MP3 player

Navigation System
Here is how the 2019 Genesis G90 leads from 2018 Audi A7:
The former has 900 watts stereo output while the latter has 630 watts stereo output.

The former has total 17 speakers in the vehicle while the latter has 14 speakers.

The former comes with 36 months of radio satellite service provided with the car while the latter only comes with 3 months of satellite radio service.
---
Safety
Safety is important to all automobile manufacturers but only some show it. Genesis does provide amazing safety features with the 2019 Genesis G90.
It has been rated as the safest vehicle which passed the maximum number of tests.
The 2019 Genesis G90 against 2018 Audi A7 for the residents of Elmhurst, IL when compared had following advanced features:
360-degree multi view that lets the driver see objects all around the car.

Cross-path system that uses a wide angle radar

Driver alert monitor feature.

Four wheel ABS brakes

Driver and all passenger Airbags

Child Safety locks

Monitor for Blind Spot

Lane Keeping assist

Traction Control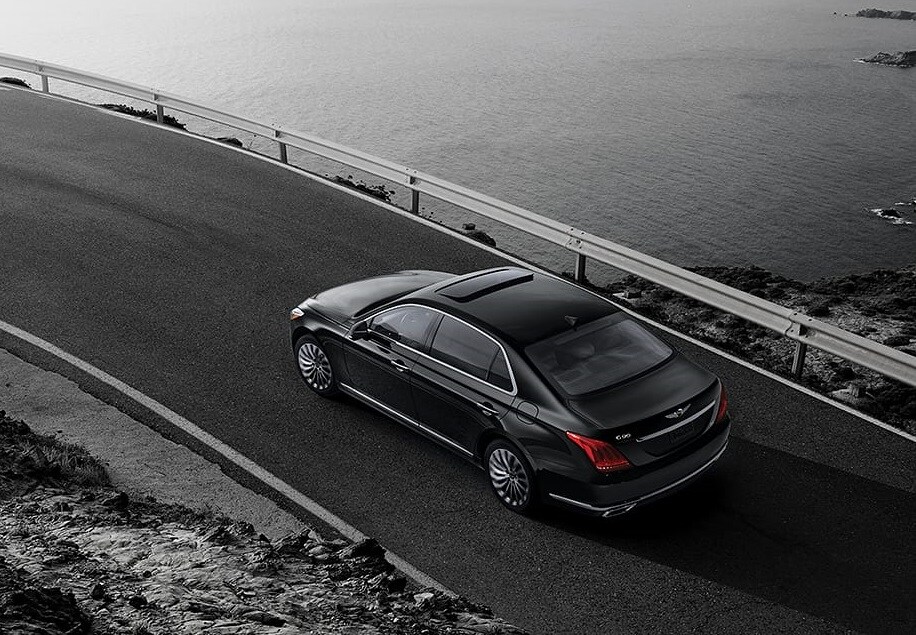 Genesis Accessories
---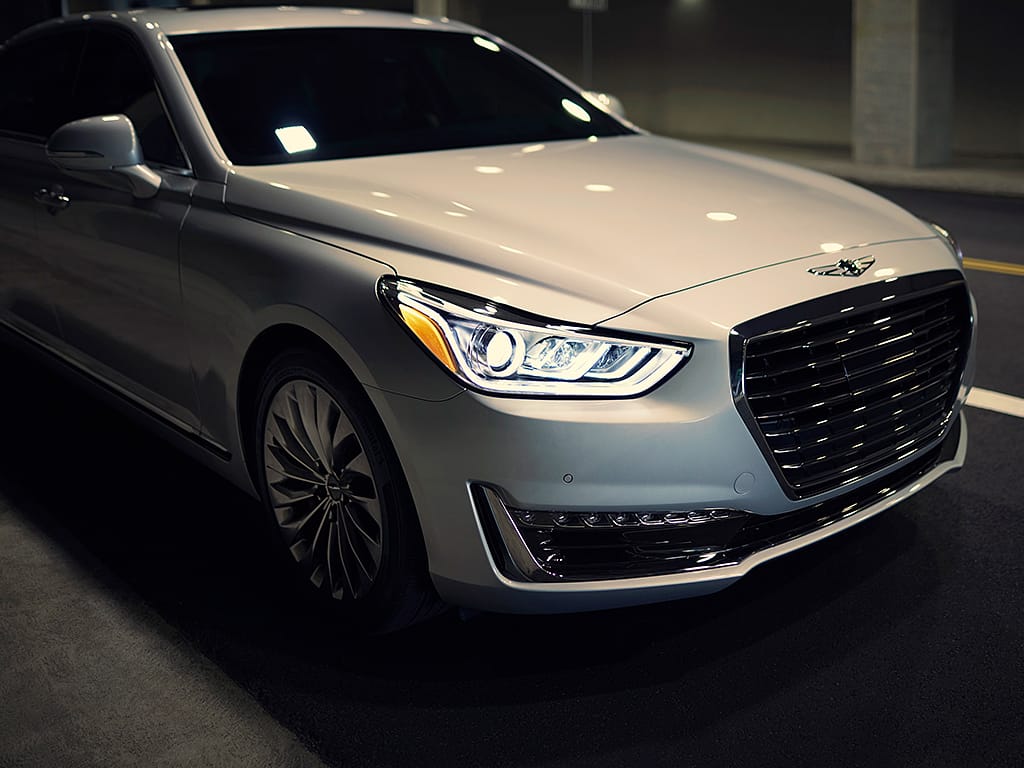 Value Your Trade
Exterior
The Genesis G90 does make heads turn whether in the parking or on the roads of Elmhurst, IL.
The 2019 Genesis G90 and 2018 Audi A7 for the residents of Elmhurst, IL can be seen and compared at Pugi Genesis. It has set a style statement so high that makes you only want it.
Some of the flawless exterior features of 2019 Genesis G90 are:
Wheelbase is 124.4''

Overall length is 204.9''

Overall height is 58.9''

Rain sensing wipers

Heated mirrors

Chrome wheels

Sun roof

Power windows

Defrost windows and doors
---
Why buy from Genesis Of Downers Grove Serving Elmhurst, IL?
Because we have been the owners of this Genesis Dealership since the last couple of decades, we know how valuable our customers are to us.
We have one of the largest inventories of cars of the latest models. We don't just claim this, but the others have acknowledged this as well by honoring our servicing departments with awards. We have experts working round the clock to ensure the satisfaction of our customers. You will always be treated like family when you are with us.
So please, pay us a visit at Pugi Genesis Elmhurst, IL and see the results for yourself.
---